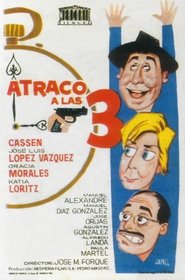 Robbery at 3 o'clock (1962)
Release : 1962-12-10
Genre : Comedy
Runtime : 92 minutes
Company : Pedro Masó Producciones Cinematográficas, Hesperia Films S.A.
Cast : José Luis López Vázquez, Cassen, Gracita Morales, Katia Loritz, Manuel Alexandre, Manuel Díaz González
Language : es
---
Descriptions Robbery at 3 o'clock
Galindo works in a bank. One day he convinces the other employees in the bank to plan a hold-up in the bank they are working. They prepare everything carefully. However, real robbers come just before the fake ones.
---
Related Post for Robbery at 3 o'clock
---