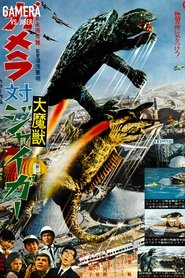 Gamera vs. Jiger (1970)
Release : 1970-03-21
Genre : Action, Adventure, Science Fiction
Runtime : 83 minutes
Company : Daiei Motion Picture Co., Ltd.
Cast : Tsutomu Takakuwa, Kelly Varis, Katherine Murphy, Kon Ohmura, Ryô Hayami, Junko Yashiro
Language : ja
---
Descriptions Gamera vs. Jiger
A giant creature attacks Japan during the World Fair and it's up to Gamera to stop it. But the monster injects Gamera with its offspring and a research team must take a craft into Gamera's body to eliminate the parasite.
---
Related Post for Gamera vs. Jiger
---