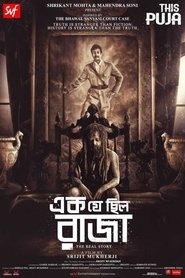 Ek Je Chhilo Raja (2018)
Release : 2018-10-12
Genre : Mystery, Thriller
Runtime :
Company : SVF Entertainment
Cast : Jisshu Sengupta, Rajnandini Dutta, Jaya Ahsan, Aparna Sen, Anjan Dutt
Language : bn
---
Descriptions Ek Je Chhilo Raja
Mahendra Kumar Choudhuri, the middle prince of the Bhawal Estate (also known as the Bikrampur Estate), was affected by syphilis and was taken to Darjeeling for treatment along with his wife, Chandrabati Devi, brother-in-law, Satya, and a family doctor, Ashwini. He apparently died in Darjeeling and was cremated there as well. After 12 years, a Sanyasi shows up at the estate, arousing people's curiosity and leading to a rumour that he is the lost prince of the Bikrampur Estate.
---
Related Post for Ek Je Chhilo Raja
---